To know How to use Kodi on Amazon Fire stick? Read the whole article. Amazon firestick became fire when it got introduced. With the attractions of smart TVs and the advantages of firesticks, the world of TV has revived where it was thought to be left behind after those video streaming platforms. In the same context comes Kodi. If you are a web surfer, you would already be aware of Kodi's wonders. So it's become important to know How to use Kodi on Amazon Fire stick? Kodi is a platform interface providing a stage for the users to access all kinds of digital media. With its easy use and compatibility with different devices, Kodi has become a popular name in the digital world.
Though, digital devices have gone easily usable, downloading Kodi can be a bit complicated if you are a new user of amazon firestick. If you are facing a problem downloading and using Kodi on your amazon firestick TV and you are keen to know How to use Kodi on Amazon Fire stick, we are here to guide you through the step-by-step process to solve your problem.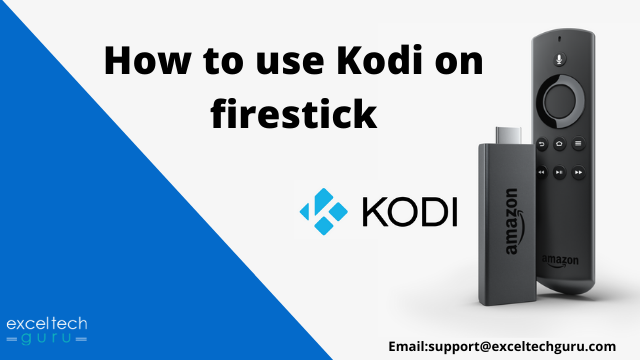 Follow the process and know How to use Kodi on Amazon Fire stick:
Step-1 – First thing you need to do is install the downloader on your firestick. For this, go to find and then to search.
Step-2 – Now, you can utilize your firestick's voice recognition, or of course, if you prefer, you can type downloader. It would appear as the first option under the apps and games category.
Step-3 – Download the downloader. Open it when it finishes installing. Allow it all the permission it asks for or it would not run.
Step-4 – You have to go to the URL tab now and type – Kodi.tv and hit go.
Step-5 – On the window that opens up, click on the three horizontal lines on the top right corner and click download.
Step-6 – Scroll down the window and select android from the options that appear. Now you have to select the version of the app according to the version of firestick that you are using. If you download an incompatible file, it would show an 'app can't be run' error.
Step-7 –As soon as the download finishes, you will get a security message. Now it is a bit tricky. It asks for unknown source permission. You have to disable some securities to let the downloader app run on your firestick. Go to settings.
Step-8 – Click on the Install unknown apps and turn it on for the downloader. Now go back to your downloader and press install. After what happens, press install again. It may take a few seconds.
Step-9 – Hit 'Done' when the installation finishes. Now delete the apk file as we will not need it again.
Step-10 – You can long-press the Kodi app and move it to your home screen favorites. Also, you can uninstall the downloader if you want.
Step-11 – Go on and check the Kodi for yourself. It is as easy to use as any other app you use.
So, it wasn't as tricky as you thought it would be, was it? Now you know How to use Kodi on Amazon Fire stick. Downloading apps on firestick can seem a bit tricky when you start but when you get used to it, firestick is as easy as your phone or your laptop. We are steeped in the comforts of the TV. Use your firestick more to get used to it and yes, use Kodi as much as you want to.
Here are some of the advantages of using Kodi on your amazon firestick –
Watch TV shows anytime, anywhere. Gone are the days of freeing your time to watch your favorite show at the exact same time. Just plug in the firestick and you're done.
Kodi would let you stream content from thousands of platforms. Yes, including XBOX.
Have the screen of TV with the comforts of a laptop.
Take a note of the above steps and enjoy free downloads with your Kodi
And now if someone asks How to use Kodi on Amazon Fire stick, You are a pro at it!
Also Check:-
iastora-sys-windows-10
0x00000101-error-in-windows-10
error-1073740791-in-windows-10