HP Printers are one of the most reliable devices for printing. It is used by many people worldwide, it is known for its quality performance. But like other Hp Printer is also a mere electronic device, it can also show problems while working it continuously. HP printer users may face problems like Hp Printer Printing blank page while using it. This problem might occur due to various reasons like problems with the ink cartridge. The mechanism of the Hp Printer may also fail due to overload.
The Blank page problem in Hp Printer is a very common issue. Not only Hp Printers but other brands also face this issue. Many of the users have faced this irritating issue. In this article, we will provide you the solutions, read this article properly and then you can fix this error on your own. Always before fixing the problem you should know its causes because it will be easy to fix it then.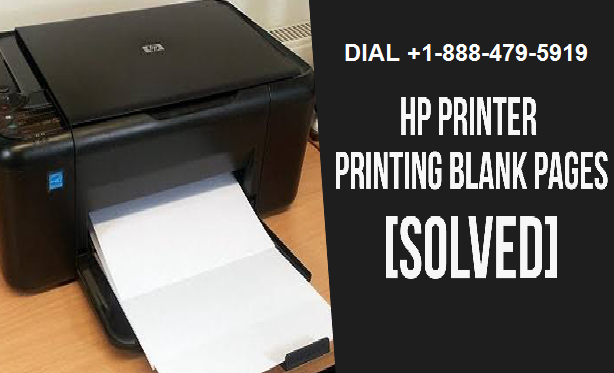 Why this issue arises with Hp Printer?
Sometimes to fix the issue in haste we forget to know its cause and generally after fixing it still it doesn't work, we should know the causes first. It may occur due to various reasons, the reasons are.
1. Check the Printing page is not blank
It may sound questionable to check the printing page is not blank. But it may occur when you are trying print to one print from a multi-page document. In multi-page documents there arise some blank space that divides the topics and sections. There can be a chance that you are trying to print on those pages.
2. Empty ink cartridges
Another cause behind the problem might be empty ink cartridges or dried up. It occurs when you use the printer after a while and you didn't check it. Due to system error, it might occur that you didn't receive the low ink level notification, so you are advised to check it and if it is empty fill it and places it might help.
3. Check the fitting of the Cartridge
Another major factor behind the problem might be improper installation or placement of the ink cartridges. To fix this you are required to reseat the cartridges properly.
4. Ensure the paper size setting
Improper selection of paper size may lead to the blank print issue. It may be possible that you accidentally or by mistakenly changed the paper size and forgotten to change it back.
Solutions: If HP Printer Printing blank page
A. Run the Windows printer troubleshooter
The printer troubleshooter is a built-in utility of Microsoft that helps to detect and can fix your printer issue automatically. Try to start the Windows printer troubleshooter to see if it can fix the blank-page printing issue or not.
1. First, click on the Windows logo key, and then type troubleshooting.
2. Select troubleshooting < Use a Printer < Next .
3. When the troubleshooting is complete, try printing a page to see if your printer works correctly.
B.Update your HP printer driver
The use of incompatible printer drivers is one of the most common causes of blank page printer problems. So you are required to update the Printer's driver. It can always be your go-to option when something goes wrong with your HP printer.
C. Ensure using genuine Hp cartridges.
Usage of Hp cartridges is the foremost solution to the blank page problem. The Hp Printer is supposed to work properly only with Hp cartridges because they are designed to work in them. If you can refill it from a nearby store is effective but the best advice is if you buy new Hp cartridges to fix this problem.
D. Reset your printer
Resetting your printer also can help you to fix the error. It is one of the easiest troubleshooting methods which can remove the common issues of a Printer.
1. Shutdown the printer.
2. Unplug the power cord.
3. Disconnect the USB cable from the printer wait for few minutes.
4. Then, plug the power cord back again into the power supply and connect the USB cable.
5. Now turn on your printer and try to print.
E. Use the Printer spooler service
Windows also contain the spooler service which helps you to interact between Windows computer and printer. The main use of spooler service is that it helps in organizing the print queue for printing. It can also help you to fix the blank page problem. You are required to turn on the spooler service.
1. First, in the search panel, search " Administrative Tools "
2. Then click on it, next double click on the services option.
3. Next, select the Printer spooler service by a right-click.
4. Select properties from the menu.
5. Next, you have to the automatic option which falls under the general tab.
6. Next, check the status of the spooler service and start it.
HP Printer Support Number for Top Quality Service.
These are some following solutions that might help you to fix the error follow the instructions accordingly for the best possible result.
If you are unable To Fix this issue then contact HP Printer Support Number +1 (878)-999-8893 to get in touch with the expert technicians, who will help you to fix HP Printer Printing blank page problem with world-class solutions.
Read these following articles related to your error may prove useful for you :